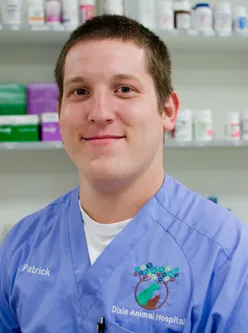 Patrick: Practice Manager
Patrick has expressed his passion of animal health and care since a very young age. He attended Robert Morgan Educational Center (High School) from 2007 to 2011. While studying at Robert Morgan, Patrick began working with Dixie Animal Hospital the summer prior to his senior year, in June of 2006. Since then he has taken positions as both Assistant Supervisor to the Laboratory and Kennel in January 2013 and then as Supervisor to the Laboratory and Kennel in March of 2013. In May of 2015, Patrick served as Office Manager, before again being promoted to Practice Manager in August of 2016. Outside of his commitment to the clinic Patrick lives a physically active life, partaking in activities such as the Orlando Sling Shot® (much like a reverse bungee jump), skydiving, and a daily CrossFit regimen.
---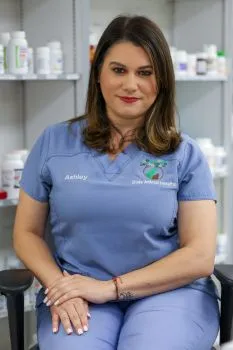 Ashley: Office Manager
Ashley is of Cuban descent, but was born and raised in Miami. She grew up with a variety of animals in her households ranging from cats to iguanas. Having so many species crawling around at home led her to want to pursue veterinary medicine. Ashley has been working in and out of the veterinary field for ten years now. She is currently attending Florida Int'l University finalizing a Bachelor's in Criminal Justice and when she completes that degree she will work hard to pursue her dream of attending veterinary school. Ashley has seven cats and one chihuahua. When she is not caring for all of her critters, she is spending time with family, painting, drawing and traveling.
---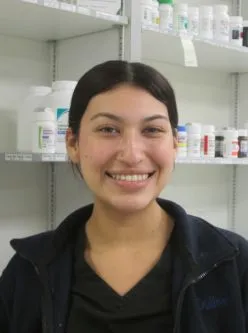 Brianna
Brianna Hebbert was born in Miami as a Nicaraguan descendant. She has worked with Dixie Animal Hospital for one year and has enjoyed her experiences in the veterinary industry. Outside of the clinic, Brianna enjoys yoga, painting, cooking and going to the gym. She hopes to grow in life by traveling the world, helping people and making an impact on people, and exploring the world of interior design. She has four pets: a dog named Bella, two cats named Ash and Raven, and a guinea pig named Pancake.
---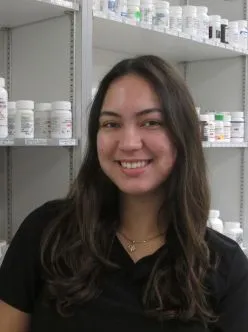 Marie
Marie Vicideo is an aspiring veterinarian looking to specialize in either zoo animals or horses. She is a graduate of Coral Gables Senior High and graduate of the Pre-Vet program at Miami Dade College. She has been working in the animal industry since 2018, furthering her passion for the veterinary medical field. Marie enjoys staying fit through various excersice and sport activies as well as painting, shopping and finding new places to eat.
---
Alexandra
Alexandra is a current FIU student on the path of becoming a veterinarian. She has been working in the veterinary field since 2019, and she has 2 dogs of her own. Aside from her goal of becoming an equine veterinarian, she wants to one day own a practice of her own to provide care for all fur babies. Some of Alexandra's interests include baking, outdoor adventures, and, of course, aid in the care of all our Dixie Animal Hospital patients.
---
Aubrey
Aubrey was born and raised in Homestead, Florida. She has been working in the animal industry/small animal veterinary field since 2017 following her graduation from FSU with a Bachelor's. Prior to 2017, Aubrey worked in the large animal industry; primarily with horses. She has three golden retrievers: Mara, Bavine and Tally. Her hobbies include boating, fishing, going to the beach and playing/caring for her three active dogs.
---
Arantxa
Arantxa is a Miami native of Puerto Rican descent. She is currently studying speech pathology in pursuit of helping people improve their speech, language and voice disorders. Arantxa has own cat; Koko. Outside of the office, Arantxa enjoys biking riding, traveling, and working on her artistry.
---