Pet Dental Services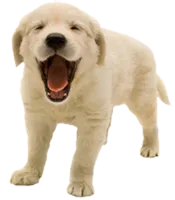 Dental disease is the most common disease seen by veterinarians: 70–85% of pets over the age of 2 have some form of dental disease. Dental disease is an often-overlooked threat to the comfort and health of your pet. Because dental disease often has few readily apparent signs, bringing your pet in for a wellness examination is the only way to ensure detection. Following the exam, the veterinarian may recommend a particular dental cleaning schedule, oral care routine, or special treatment based on your pet's dental health needs.
At Dixie Animal Hospital we provide several dental care possibilities ranging from at-home-care products to scaling, polishing, and extraction procedures. We often try to encourage you to brush your pet's teeth on a regular basis to prevent continual tartar and bacteria buildup but this is not always possible for every pet owner. If you are having difficulties with at-home-care you may want to look out for the signs of dental disease so that you can bring them in for the appropriate treatment.
Bad breath
Yellow, brown, or discolored teeth
Loose teeth
Red, inflamed gums
Swollen mouth, jaws, or gums
Doesn't play with chew toys as often
Pain when eating
Dental procedures are perform Monday through Friday by appointment. Patients should be dropped off between 8:00am and 8:15am to allow the technicians sufficient time to prepare for the surgery. This ranges from pulling blood samples to administering pre-anesthetic medications. Once the patient is prepared for the procedure we can move forward with the task at hand. These tasks range from teeth cleaning and polishing to tooth extractions and some routine oral surgeries. Dixie Animal Hospital uses state-of-the-art anesthesia monitoring devices during surgical procedures to make sure we are observing your loved ones vitals with the highest in quality in care. Using our Bionet BM3Vet Next monitoring system, we can closely monitor your pets electrocardiograph (ECG), oxygen saturation (SpO2), non-invasive blood pressure (NIBP), end tidal carbon dioxide (EtCO2) using capnograph technology. While this all may sound alarming, regular dental care can be the difference between a life-long healthy, happy companion or a painful experience later in life.