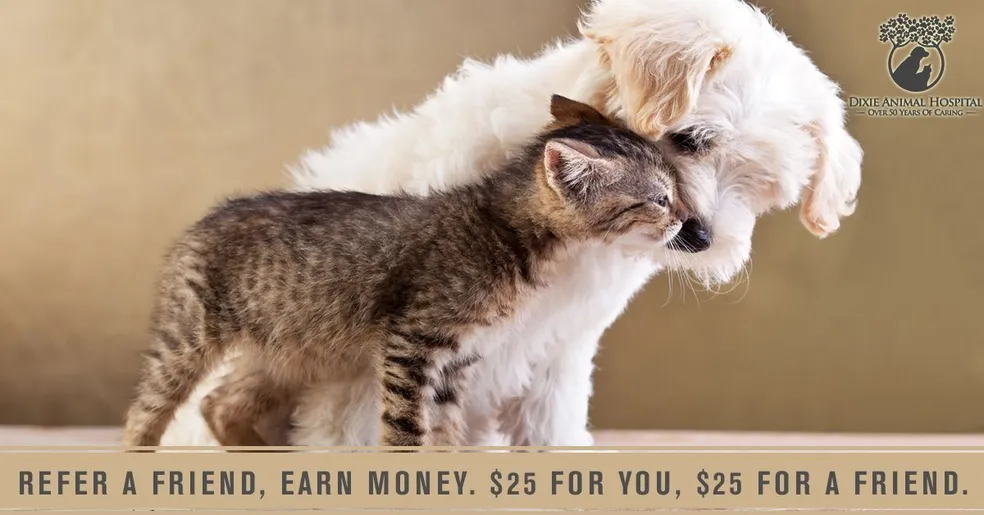 Dixie Animal Hospital is now engaging in a new referral program for current clients with friends, family members and neighbors who are looking for a new veterinarian. For each new client you refer to our practice, we will add a $25 credit to your account. Your friend will also receive $25 off during their pet's first visit with us. These credits can be applied towards services, supplies, food, etc.
We understand the importance and value of your testimony. Your referrals and reviews encourage your neighbors to visit our office. Without you, Dixie Animal Hospital would not exist! Dixie Animal Hospital continues to strive in a positive direction, constantly learning and applying new technology and techniques from the greatest minds in the field. This allows us to provide better healthcare for your pets, and gives you an opportunity to share those experiences with your family, friends, and neighbors. Refer as many friends as you would like and receive a credit each time!
Please don't forget to share this coupon with your friend before their pet's first visit. We thank you for supporting us, so we want to make sure you both enjoy $25 off at Dixie Animal Hospital!