Image courtesy of timobalk / stock.xchng
Surgical Care
Dixie Animal Hospital is dedicated to providing the best care possible for your pet. This includes providing state-of-the-art techniques in combination with the sophisticated equipment and excellent surgical staff to allow for premium surgical care. Dixie Animal Hospital is devoted to supplying reassuring and compassionate experience during this high anxiety time.
Our surgical services are available BY APPOINTMENT Monday through Friday. Please drop-off your pets between 8:00am and 8:15am. You should drop your pet off fasted with no food after midnight; a little bit of water before the surgery is not a problem. If you are being held back by traffic or any circumstances please call us at 305-238-5161. If for any reason you need to cancel your surgical appointment please be sure to let us know. Surgical discharge with the doctor is normally between 4:00pm and 4:45pm but the surgical doctor will likely call you to set up a specific time.
Dixie Animal Hospital uses state-of-the-art anesthesia monitoring devices during surgical procedures to make sure we are observing your loved ones vitals with the highest in quality in care. Using our Bionet BM3Vet Next monitoring system, we can closely monitor your pets electrocardiograph (ECG), oxygen saturation (SpO2), non-invasive blood pressure (NIBP), end tidal carbon dioxide (EtCO2) using capnograph technology.
Dixie Animal Hospital offers a variety of surgical procedures, including but not limited to:
Spays
Neuters
Teeth Extractions
Mass (Tumor) Removals
Splenectomy
Cystotomy
Abdominal Exploratory
Perineal Urethrostomy
Hernia Repair
Amputation
Select Orthopedic Procedures
In addition to these various procedures more complex surgeries can be performed by a traveling veterinary surgeon at our hospital.
---
Cutting Edge Surgical Referral: Dr. Mario Cabrera DVM, CVA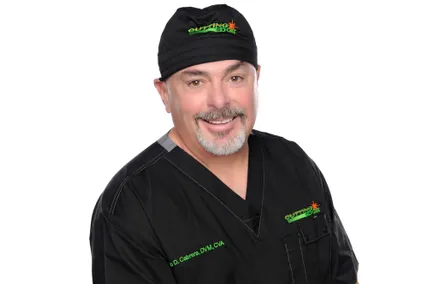 In addition to the numerous surgical offerings that our veterinarians can perform, we are excited to have Dr. Mario Cabrera DVM, CVA and the surgical team at Cutting Edge Surgical Referrals at the ready for more complex procedures. Dr. Cabrera and team have the capabilities and tools to perform intricate surgical procedures on a referral basis. Some of these surgical procedures include:
TTA- Tibial Tuberosity Advancement
Lateral Suture
Patellar Luxation Repair/Ridge Stop(R)
Fracture Repair (Bone Plating, IM Pinning, External Fixation)
FHO- Femoral Head Ostectomy
Femoral Head Reduction
Pelvic Osteotomy
Amputations
Joint Explorations (Shoulder, Elbow, Knee, Hip)
Stem Cell Therapy
Anal Sacculectomy
Skin Grafts
Abdominal Procedures (Shunts, Splenectomies, Gastropexies, Exploratories, Enterotomies)
Salivary Gland Removal
Total Ear Canal Ablations
Laparoscopic Procedures
If your pet is in need of a referral for a complex surgical consult, please contact us so that we may service your pet's needs.