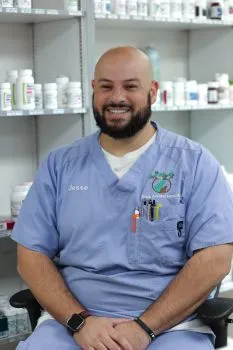 Jesse: Co-Laboratory/Kennel Supervisor
Jesse joined Dixie Animal hospital in September 2016, but has been working in the animal health industry for the past 6 years. Jesse is currently a Biology major at Miami-Dade College on his way to earning his nursing degree making him one step closer to achieving his M.D. In the past, he has volunteered at Friends Forever Rescue assisting with hospital care. He will stop at nothing to help all pets ill or injured. His unrestricted love and passion for animals keeps him motivated to move forward and overcome all obstacles. He owns two spoiled Labrador Retrievers name Leo and Lily. With his free time, Jesse enjoys reading, writing, and spending time with family and friends.
---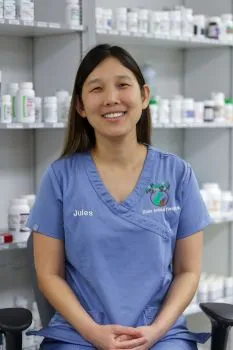 Jules, CVT: Co-Laboratory/Kennel Supervisor
Jules joined the Dixie Animal Hospital team in September 2014. Prior to joining Dixie Animal Hospital, Jules graduated from the Veterinary Technician program at Miami Dade College in July 2014. She has since earned the title of Certified Veterinary Technician; CVT. Jules became an Assistant Laboratory/Kennel Supervisor in October 2020. Her passion for animals has been her driving factor in pursuing veterinary medicine. In the past, she has volunteered with the Cat Network, assisting them with their Meow Mobile. Jules also spent time volunteering at Zoo Miami with the children's Summer Camp program. She owns one Boston terrier named Dexter who is extremely spoiled, but hopes to bring more Boston terriers into her life in the future. With her free time, Jules enjoys spending quality time with her friends and family, reading, and going to concerts. She enjoys traveling to far-away lands such as Ireland, and hopes to continue to travel in the future, particularly to her dream destination, Italy.
---
Alexis: Co-Assistant Laboratory/Kennel Supervisor

Alexis has been a veterinary nurse for 3 years and loves how rewarding it is to help care for other people's furry family members. She recently began working with Dixie Animal Hospital in February of 2019. Alexis was born and raised in Miami. Animals have been her passion for as long as she can remember; she has worked with and helped raise several exotic animals including primates, reptiles, and big cats such as lions, tigers, jaguars, and even ligers. Currently Alexis has a dog named Nala and 2 cats named Camo and Aurora who are extremely spoiled. In her free time Alexis enjoys boating, fishing, or anything outdoors.
---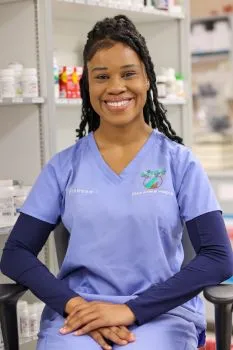 Finesse
Finesse joined the Dixie Animal Hospital team in March 2021. Finesse has had a passion and love for animals since childhood, with her first pet being a rabbit and her first dog being a Neapolitan Mastiff. Finesse has been working in the animal industry for two years and within the first year, she became very fond of chihuahuas. Finesse is currently attending Miami Dade College to earn her BSN degree. Her goal is to become a Pediatric Nurse Practitioner in the near future and has dreams of starting an animal-related service business further down the road. Finesse has two very spoiled lovable pet dogs, Jelanie (American Bulldog), and Chase (Patterdale Terrier) and she loves cuddling with them when she goes home. When she's not studying, she enjoys spending time with family and close friends, learning kanji, reading non-fiction books, attending concerts of underground musicians, and traveling. She loves visiting her grandfather's home island, the Andros, Bahamas, and would like to pay a visit to eastern Asian countries someday.
---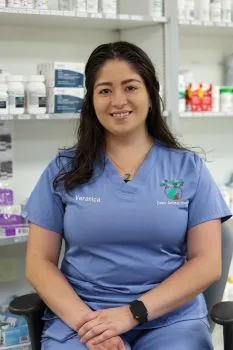 Veronica G.
Veronica has been a part of the Dixie team since August 2021. She has had a love and admiration for animals since a very young age. Her career began when she volunteered at Zoo Miami as a Conservation Teen Scientist in high school, and from there she continued in the zoo field for 5 years. Veronica graduated from Santa Fe College Teaching Zoo with a Zoo Animal Technology degree in 2020. She is the proud parent of two fur children, Flash and Tigress, which she adopted from Dixie, and hopes for many more fur babies. In her free time, she likes to spend time with family, watch movies, and partake in any outdoor activities (volleyball, going to the everglades, Fairchild). Veronica is a huge Disney fan and likes to travel to Orlando as much as possible. Her dream would be to travel to all Disney theme parks across the world.
---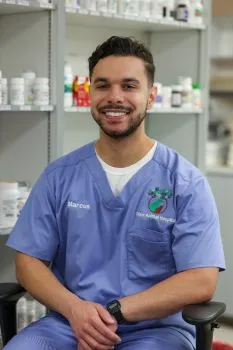 Marcus

Marcus joined the Dixie family in February 2022. Having graduated from FIU with his BA in spring of that year, he is currently working on his final steps before applying to FIU's OT Master's program. He loves dogs and cats of all shapes, sizes, and breeds and loves treating every pet he sees as though they were his own. He owns a lovable beagle mix named Peaches. During his free time, Marcus enjoys exercising, watching movies, and spending quality time with his girlfriend.
---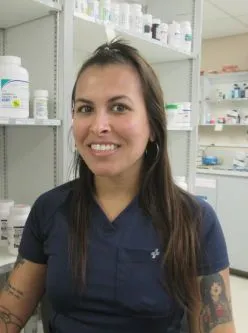 Veronica S.

Veronica Serrat was born and raised in Miami to Cuban parents. Her close family calls her Mussy; similar to how in Cuban Spanish a cat is called over using the term 'misu'. She has always loved and respected animals since she was able to walk. Veronica has always been interested in the veterinary field, but didn't think it was a possibility for her. Exploring the veterinary field has opened her eyes to the possibilies in the industry. Outside of the clinic, Veronica enjoys outdoor activities, traveling, weight lifting and running. She is currently attending Miami Dade College through their veterinary technology program.
---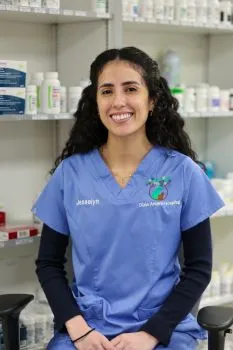 Jesselyn

Jesselyn Dominguez has been with Dixie Animal Hospital for 1 year. While attending highschool at Coral Reef, she combined her medical academy background with her love of animals to explore the veterinary industry. Jesselyn has graduated from FIU with a Bachelor's in Biology and hopes to pursue a doctorate of veterinary medicine soon. She has a passion for caring for animals including previous work with dog rescues. Jesselyn's hobbies include roller skating, reading and drawing.
---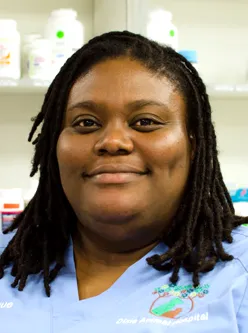 Antinique

Antinique Chinn joined Dixie Animal Hospital in August of 2013 but has been working in the animal health industry for the past 10 years. She briefly left Dixie to pursue other endeavors, but rejoined with us in 2023. Antinique has proven to provide hard work and commitment to our facility. A Miami native, Antinique graduated from Miami Edison Senior High in 2001 and then graduated from The English Center in 2003 with a Veterinary Assisting Certificate. She spent over 10 years working for Animal Emergency Clinic taking care of multiple critical care patients each day! While Antinique enjoys working with animals and coming to work daily, she uses her off time to relax in the sun often choosing to go day fishing for the local delicacies. Antinique does not currently have any pets but spends affectionate time with the kittens we have for adoption here at the clinic, contemplating whether or not to take one home.